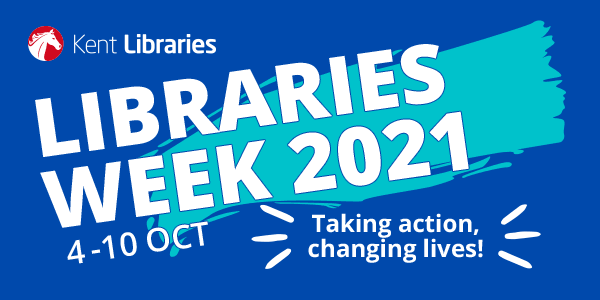 Taking Action, changing lives
Libraries Week is an annual showcase of the best that libraries have to offer, and runs from 4 to 10 October 2021. This year's theme is 'Taking action, changing lives'.
In Kent, we are applauding the difference that our libraries make, throughout the pandemic and as we all look to the future.
During Libraries Week we will help you discover the range of things you can do at your library. From play and learning for children, managing your health, accessing wifi and games, to finding a job, a hobby or starting a business.
We are also celebrating the upcoming launch of Kent's Business and Intellectual Property Centre (BIPC), providing free and accessible business advice, support, information, and resources.
Get involved
All our libraries are open and ready to welcome you back. We would love to see you in Libraries Week. If you don't have a library card, now is the ideal time to sign up for a library card and it's free.
Visit the Libraries Week section of our online catalogue for recommended reads and online activities.
Find out more
For more information and fun activities follow us on Facebook and Twitter or you can subscribe to our YouTube channel.