Club and activities closures: all of our library events and activities including Storytime, Talk Time, Rhyme Time, Digital Dens and groups are suspended until further notice.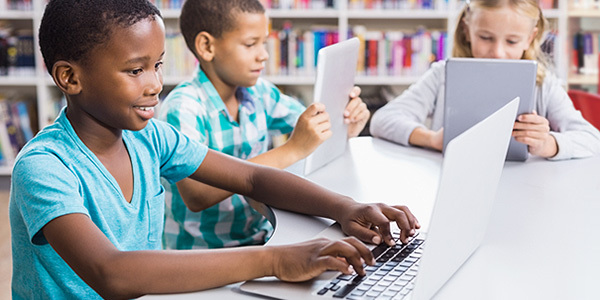 Children aged 8 to 11 can learn new digital skills and work on fun projects at a Digital Den. Each Digital Den will have some of the latest educational technology available for the children to experiment with.
Children will also be able to learn how to code in Scratch, Python and HTML through Code Club courses. This supplements what they are taught at school, as these are all part of the curriculum. The clubs will be a mix of lessons and free sessions to encourage learning and creativity.
Where and when
Digital Dens have opened in:
Technology available
At the Digital Dens children will be able to experiment with some of the latest technology to learn about coding, programming, building computers and robots. Some of what is available is explained below.
BBC micro:bits
Tiny programmable computers designed to make learning easy and fun. It's very quick to get started, you can write your code on the micro:bit website where there are lots of ideas for projects ranging from simple scrolling text to more complex tasks, like coding Rock, Paper, Scissors! Find out more about the micro:bit.
Raspberry Pi
A small credit card size computer, very similar to a micro:bit but with more complex features. It allows you to explore how computers work, and for those who enjoy coding it allows a greater depth of freedom – with a bit of imagination there's not much this little computer can't do. At the Digital Dens children will be able to build a computer using a Raspberry Pi, keyboard, mouse, screen and a few other bits. Find out more about a Raspberry Pi.
LittleBits
Electronic building blocks that snap together with magnets, a lot like Lego. Mixing and matching between different 'bits' you can invent anything you imagine, from a remote controlled car to a smart home device. Find out more about LittleBits.
Ozobots
Using infrared sensors Ozobots follow patterns on the surfaces that they move over. They can recognise lines and colours on both paper and digital surfaces, like a laptop or tablet screen. You can design your own mazes and games for the Ozobots to run using nothing but some coloured pens and a piece of paper. They are fascinating to watch and are another way of learning some of the basic principles of programming. Find out more about Ozobots.
Volunteer at a Digital Den
We're looking for volunteers! If you're interested in volunteering at a Digital Den:
speak to a member of staff in the library
fill out the online form our volunteering page.
This was a project funded by a grant from the Arts Council England 'Libraries Opportunities for Everyone Innovation fund'.