About Grove Ferry Picnic Site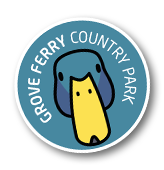 Set along the banks of the Great Stour River, Grove Ferry Picnic Site takes its name from the hand-drawn ferry that once crossed the water. Take the opportunity to enjoy a picnic by the waterside and watch the boats go by – or take a gentle walk along the path and keep an eye out for the wildlife that can be found at home on the river.
The park is also close to the Stodmarsh National Nature Reserve, which provides a habitat for many different birds and animals, including otters and water voles which are extremely rare in England.
Things to do
Walks
The park is flat with grass pathways. This may not be suitable for wheelchairs.
Find other local walks on the Explore Kent website
Dog walking
Dogs are very welcome at Grove Ferry Picnic Site.
Please remember to clear up after your dog and put waste in the dog bins provided.
Let your children play
Children from the age of 3 will enjoy the fantastic play area at Grove Ferry Picnic site.
Get out on the water
During the summer months you can take a pleasant boat trip on the River Stour from the Grove Ferry Inn. Visit Grove Ferry River Trips for more information.
Canoewild operate the hire of canoes.
Fishing is available on site by contacting Canterbury and District Angling Association on 01227 710830.
A history of Grove Ferry
The area took its name from a hand drawn ferry that crossed the River Stour. The local pub, built in 1831 also takes the name The Grove Ferry Inn. The near-by Grove Ferry Bridge was renovated by Kent County Council in September 2000. This is close to the railway level crossing, the site of a former dismantled railway station.
Fishing rights were granted during the reign of King Henry II and are still available along the riverbank today from Canterbury and District Angling Association.
Grove Ferry Boat Club, founded in 1964, whose club house is on the site, is home to recreation boats for enthusiasts and members.
Since the opening of the site, it has been managed for public recreation and is still a popular site, particularly during the summer months, for family picnics and barbeques.
Park management
This park is managed by our Kent Country Parks team.
Read the Kent Country Parks strategy 2017-2021 which sets out the aspirations for our Kent Country Parks service over the next 3 years.