Working in Mental Health services in Kent
The Kent County Council Mental Health Social Work service forms part of a Community Mental Health and Wellbeing Service which has been jointly commissioned with Public Health and Clinical Commissioning Groups. It forms a key part of an integrated pathway across the voluntary sector, primary and secondary care and includes public health initiatives. This is to ensure appropriate, timely and cost-effective interventions for vulnerable people in Kent.
The Kent County Council Mental Health Social Work services are directly line managed by Kent County Council. They are co-located with secondary care mental health colleagues in the local mental health trust and work as part of a multidisciplinary team. The service includes community social work, an AMHP service provided 24 hours a day, 7 days a week and specialist safeguarding and forensic social work teams. The service is based on recovery and social inclusion principles and works closely with the Kent Enablement and Recovery Service.
Work for us
We are looking for social care staff to join us in a range of posts. You will have protected professional development time to build on and/ or develop personalised focussed outcome approaches and train as an AMHP (if you are not already a warranted AMHP). We are committed to developing staff and you will benefit from working in a challenging but highly supportive environment with a strong emphasis on professional leadership and supervision.
The work you will undertake will be highly collaborative with an emphasis on building individual strengths, enablement and reablement. An explicit function will be early intervention and prevention. You will be responsible for the delivery of social care legislation and policy, ensuring we offer a consistently high quality, integrated service to people with mental health needs.
Assistant Director of Mental Health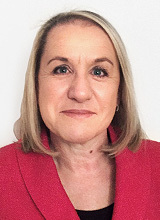 Cheryl Fenton