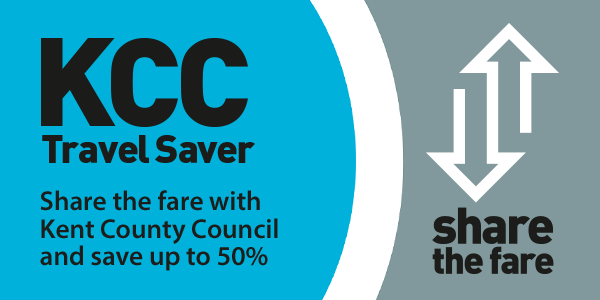 The cost of the KCC Travel Saver is £450 for the year or £460 if you pay in instalments.
Pay online in full or spread the cost with our Direct Debit option and make 8 monthly payments between October 2022 and May 2023. The pass costs the same no matter when you apply for it, so the earlier you apply the more value you get, and the longer period you can spread the payments over.
Lower cost and free passes
Lower cost and free passes are available for children and families meeting certain criteria.
Free school meals passes are for children who are eligible for free school meals. Just select this option when applying. No other information is needed and we can check eligibility.
The cost of a free school meals pass is £120.
You can spread the cost by making 8 monthly payments between October 2022 and May 2023.
Free passes are for:
young carers
children in care
care leavers.
Young carers
You do not need to get your application endorsed this year. When you apply online we will check this. For any other information about young carers arrangements contact:
In care or care leavers
If you are 11 to 16 years old we will contact your case worker to confirm your status.
If you are 17 to 21 years old your pass will be sent to your personal advisor for them to give to you.
For households with 3 or more children, pay for 2 full price passes and get the 3rd and other additional passes for free. That means 2, 3 or 4 full year passes would cost £900, or £910 if paying by instalments.
This offer is not available if any of the passes are lower cost or free passes.