Reconnect: Kent children and young people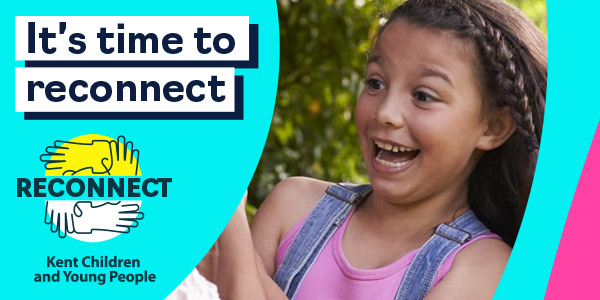 It's time to reconnect Kent's children and young people to the things they've missed during the pandemic.
Every aspect of their lives has been affected, from their learning and wellbeing to their friendships.
These effects have been significant, and it is recognised nationally and internationally that children and young people have sacrificed more than most over the course of the pandemic.
Children and young people have told us they want to reconnect:
health and happiness
learning missed
family, friends and community
sport, activities and the outdoors
economic wellbeing.
About the programme
The programme will run from April 2021 to the end of August 2022 and will be available to all children, between 2 and 19 years old (or 24 years old if they have special educational needs and/or disabilities).
Our aim is to create a diverse range of sustainable activities for all children and young people to access.
Young people have made a short video that explains the aims of the programme.
How you can reconnect children and young people
It's clear that reconnecting children and young people is a national priority, as it will be for many in our communities.
We want the whole community of Kent to get behind the Reconnect brand and to be proud to be associated with it. We need your help in making the programme bigger and reach further.
What more could each of us do in our work and home life to help reconnect children and young people? What could you do to help make the biggest, positive impact we can for Kent's children and young people?
You can support Reconnect by telling us:
what events and activities you are running or would like to run for children and young people
what you need to do more and to reach more children and young people
what volunteering opportunities you have.
In return, Reconnect can support you by:
advertising your events and activities
helping you access the resources you need to do more
giving you opportunities to access funding
promoting your volunteering opportunities through our Do-It volunteering page.
Pledge your support the Reconnect programme
If you have any questions about how you can support Reconnect, contact us at reconnect.kentcyp@kent.gov.uk.
Our vision
Childhood should be full of fun, adventure, new experiences, and social interactions. These experiences help shape the people we become.
A year of disruption due to the COVID-19 pandemic has impacted the childhood experiences of Kent's children and young people, and many have missed opportunities as a result.
We want to create positive change for children and young people. We know impactful change across the county is not something anyone or any single organisation can do alone.
We have a vision of an enhanced and networked approach to creating opportunities for children and young people in their communities. Organisations and communities will benefit from the shared value of generating meaningful impact and sustainable change for children and young people.
We believe in the power of local organisations and communities as drivers for change, supporting children and young people to reconnect with things they have missed in the last year as well as engaging in new positive experiences.
We want to connect children and young people with the wealth of skills, strengths and resources in their local communities, while also connecting these assets to each other to increase their potential. If we get this right, thriving Kent communities will lead to thriving Kent children and young people, no matter how challenging the situation they may face.
Ultimately, this is about bringing individuals and organisations within communities together, harnessing their collective energy and ambitions and working in collaborative ways to begin to solve complex issues for children and young people – giving a year back to children and young people along the way!