Safeguarding Adults Awareness Week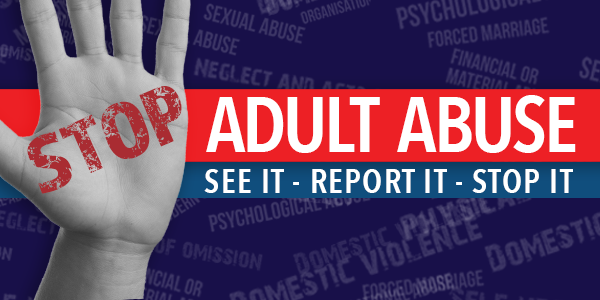 8 to 12 October 2018
The Kent and Medway Safeguarding Adults Board is supporting Safeguarding Adults Awareness Week, This is an opportunity to raise awareness of how to recognise the different types of adult abuse and what to do if you think someone is being abused or is at risk of being abused.
This year, the focus is on isolation and exploitation.
As part of Adult Safeguarding Awareness Week 2018, we are raising awareness of isolation and how this can lead to adults becoming more susceptible to exploitation. We would like you to think about a small action you can take as an individual which may make a difference to a person in your community. Please take a moment to make a pledge.
Types of abuse
There are different kinds of abuse and it can happen anywhere. Abuse occurs when someone exploits another person or treats them in a way that harms or hurts them. It can happen once or on multiple occasions. People who abuse are not always strangers. They can also be partners, relatives, a friend, neighbour or carer.
The main types of abuse are:
physical abuse
domestic abuse
sexual abuse
psychological abuse
financial or material abuse
modern slavery
discriminatory abuse
organisational abuse
neglect and acts of omission self-neglect
forced honour based violence
hate crime
mate crime.