The PASSAGE Project (2016-20)
Value of EU Grant - £261,848
Name of funding programme - Interreg Europe programme
Start and end dates - May 2016 to March 2020
PASSAGE is funded by the Interreg Europe programme and co-financed by the European Regional Development Fund (ERDF). The project is led by Pas-de-Calais Council. We are one of 11 partners all of which are members of the European Straits Initiative.
The project is examining how we can make the transition to a low-carbon society and low-carbon economy. This is particularly relevant to the Dover Strait area, where we need to manage the growth of the transport corridor at the same time as ensuring the area continues to be a destination for visitors and place where people want to live and work.
Phase 1 of the project has involved the development of a Dover Strait action plan and phase 2 will involve the implementation of this.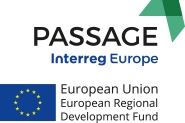 Pas-de-Calais Council and Kent County Council are both responsible for the PASSAGE Dover Strait action plan which will be published in spring 2018 and form the basis for the implementation phase.
Throughout the plan making phase, stakeholders from across Kent and Nord Pas-de-Calais have been essential to producing a fully informed and supported plan and the assistance of these organisations and individuals will be key to the implementation of the plan also.
The Dover Strait PASSAGE plan will influence and take forward the following agendas:
the fight against energy scarcity (domestic emissions)
development of low-carbon public procurement
development of short supply chains
development of low-carbon mobility
development of low-carbon tourism
development of alternative energies.
The Dover Strait PASSAGE plan will bring together a range of low carbon and low emissions agendas and will make the business case for the transition to a low carbon economy. For us, the plan will also help take forward many areas that we are developing through the Kent Environment Strategy.
Project summary
The PASSAGE project will help to address key issues affecting the Kent population, including the reduction of emissions and working towards better air quality.
PASSAGE will also help strengthen Kent's low carbon economy and lead to new jobs from the application of internet technologies, renewable energies and sustainable tourism.