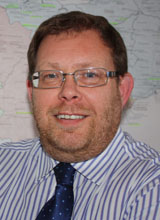 Director of Education Planning and Access
Roles and responsibilities
The strategic lead for the commissioning process to plan and secure the provision of high quality school places across a diverse range of schools for children and young people at all ages, helping to improve parental choice
Promote fair access in admissions to all educational settings and ensure admissions policy and practice meet legal requirements
Develop the directorate's strategy and policy making process for special educational needs
Lead the development of district based working so that there is coordinated and integrated delivery of education, learning and skills services in each district, working in partnership with schools and other providers, and with other corporate directorates in Kent County Council.
Read the full job description (PDF, 126.0 KB).
Biography
Keith joined Kent County Council in 1982 after a variety of jobs whilst at university. He has worked in a number of roles within Corporate Finance, Social Services and Education Finance. He is CIPFA (Chartered Institute of Public Finance and Accountancy) qualified.
Salary and expenses
Keith's salary is £113,356.
Keith has not claimed any expenses for the current financial year.
Our expenses policy applies to all staff. View a breakdown of all expenses claimed by our directors for the current and previous financial year.
Declaration of interests
Memberships: Member of Chartered Institute of Public Finance & Accountancy.
Gifts and hospitality
None to declare.