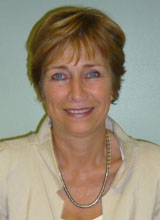 Director of Older People and Physical Disability
Roles and responsibilities
Anne's role is to:
deliver strategic commissioning for adult social services for older people and people with physical disabilities
to make sure that that services are delivered within budget and meet national policies and frameworks.
Read the full job description (PDF, 158.0 KB).
Biography
Anne qualified as a Social Worker in Holland and started working for Kent County Council in 1990. She has worked on the front-line as a care manager and had several management roles in numerous settings before the many years experience she's had as a Director in Adult Social Care for many years.
In 2009 Anne was appointed as Associate Director Strategic Integrated Commissioning, a joint appointment for 2 years between NHS Eastern Coastal Kent and Kent Adult Social Services and Kent Adult Social Services, with health and social care commissioners and providers to develop integrated services.
In her current role some of the key areas of work are:
developing and delivering services for older people and people with physical disabilities
integrated working with partner agencies in particular with the NHS and district councils
as one of the directors of the Design and Learning Centre for Clinical and Social Innovation, bringing international good practices to Kent, digital technologies and supporting social care providers with skills and workforce development
leading for the Council on creating a dementia friendly Kent as Chair of the Kent Dementia Action Alliance
end of life care, equipment and assistive technologies, equalities, sensory services and autistic spectrum conditions.
Anne has been leading for adult social care on international collaboration and has managed several European Interreg projects such as CASA , Buurtzorg (TICC) and joint working agreements with Scotland, South Denmark, the Netherlands and Sweden.
Anne's salary is £112,415.
Anne's expenses for the past financial year are £2,962.18.
Our expenses policy applies to all staff. You can view a breakdown of all expenses claimed by our directors for the current and previous financial year.
Public appointments: Parent Governor of Brockhill Park Performing Arts College, Saltwood, Hythe and Chair of Curriculum Committee.
Membership: Health and Care Professions Council and Chartered Management Institute.