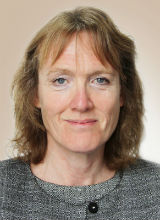 Corporate Director Growth, Environment and Transport
Roles and responsibilities
Direct, lead and commission a range of strategic, county-wide and community based services, in partnership with other private and public sector agencies, ensuring the delivery and development of economic growth and county-wide infrastructure.
Lead and direct the delivery of strategies to ensure efficient and cost effective provision of environment, planning and enforcement services for Kent, through a range of programmes and initiatives to support the key strategic requirements and business needs of Kent.
View the Corporate Director Growth, Environment and Transport job description (PDF, 337.3 KB).
Biography
Barbara has worked in local government for over 20 years and has managed a range of services in the London boroughs of Kingston upon Thames, Croydon and Bromley and in Portsmouth City Council and Swale Borough Council.
Barbara's role includes responsibility for the performance of front line services. The services include economic development, highways, waste, planning, environment, community safety, trading standards, arts and sports.
Salary and expenses
View salaries and a breakdown of all expenses claimed by our directors for the current and previous financial year.
Our expenses policy applies to all staff.
Declaration of interests
Company interests: Member of Locate in Kent Board
Gifts and hospitality
Gifts and hospitality register 2016 to 2017 - Barbara Cooper (PDF, 362.6 KB)