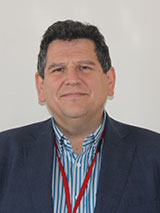 Director of Specialist Children's Services
Roles and responsibilities
Philip's role is to lead and direct all elements of children's social services, in particular focusing on the safeguarding and welfare of vulnerable children, young people and their families.
Read the full job description (PDF, 196.8 KB) for the role of Director of Specialist Children's Services.
Biography
Philip qualified as a social worker in 1989 subsequently working as a practitioner and manager in children's services in a number of London authorities. He has held a diverse range of posts covering regulatory responsibilities for safeguarding and looked after children whilst maintaining a particular interest in the needs of disabled children and their families.
From 2005 to 2013 Philip worked as a consultant across the country specialising in change management and practice improvement work with failing authorities. He joined Kent County Council in February 2013 as Assistant Director for North Kent moving into the role of Acting Director of Specialist Children's Services in August 2014, before being appointed as the Director of Specialist Children's Services on a permanent basis in November 2015.
Philips's salary is £123,306.
Philip's expenses for the past financial year (April 2016 to March 2017) are £1,078.75.
Our expenses policy applies to all staff. You can view a breakdown of all expenses claimed by our directors for the current and previous financial year.
Member of British Association of Social Workers (BASW).