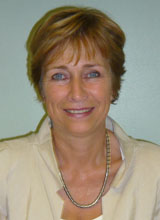 Director of Older People and Physical Disability
Roles and responsibilities
Anne's role is to:
deliver strategic commissioning for adult social services for older people and people with physical disabilities
to make sure that that services are delivered within budget and meet national policies and frameworks.
Read the full job description (PDF, 158.0 KB) for the role of Director of Older People and Physical Disability.
Biography
Anne qualified as a social worker in Holland. She moved to England in 1990 and started working for Kent County Council as a care manager. Here she worked as Team Manager, District Manager and Head of Adult Social Services in a variety of settings: Acute Hospital Care, Community Teams for Older People, and Learning and Physical Disability.
In 2009 Anne was appointed as Temporary Associate Director Strategic Integrated Commissioning, a joint appointment between NHS Eastern Coastal Kent and Kent Adult Social Services.
She has been the lead for her area on innovation and integrated working with partner agencies, in particular with the PCT, on projects such as Intermediate Care, Dementia Care and Teletechnology. The Intermediate Care Service was evaluated by the Department of Health and became one of the exemplar services for the Department of Health.
For many years Anne been the Social Services member on Professional Executive Committees of successive Primary Care Trusts in East Kent.
Anne has been involved in working with partner organisations in Europe for some time. She has contributed to a publication on Tele-technological developments following on from a seminar in Utrecht, Holland.
Anne is the senior responsible officer for the Whole System Demonstrator Programme in Kent, a Department of Health randomised control trial on the use of Teletechnology.
Anne's salary is £112,415.
Anne's expenses for the past financial year (April 2016 to March 2017) are £727.77.
Our expenses policy applies to all staff. You can view a breakdown of all expenses claimed by our directors for the current and previous financial year.
Public appointments: Parent Governor of Brockhill Park Performing Arts College, Saltwood, Hythe and Chair of Curriculum Committee.
Membership: Health and Care Professions Council and Chartered Management Institute.